Jump to Recipe
Homemade and fresh corn tortillas with Maseca (brand) cornmeal, warm water, and salt. It is a traditional recipe with only these three ingredients. The other thing you will need is a tortilla press to flatten the masa into a circle. If you don't have a tortilla press, no worries just use a rolling pin. You will still get the traditional flavor of freshly made corn tortillas.
How much corn masa flour?
According to the recipe from Maseca which is the brand of the corn masa flour I use, 2 cups of corn masa flour makes about 19 tortillas. That's perfect for a family of four to six. You can also try this recipe with other corn masa flours from your market. This corn flour is also used to make other recipes such as gorditas, pupusas and even tostadas with these tortillas. Let me give you some tips I know, to help you make the best tortillas.
Tips to make perfect tortillas.
Tip #1 is to add warm water and not cold water to prepare the dough. First, place the flour in a large bowl and mix in the salt. Then, gradually add warm water and mix with your hands. Keep warm water nearby if necessary to add more if your dough gets too dry.
Here's tip #2, once you have the three ingredients mixed, keep mixing the dough very well with your hand for about 5 minutes until you feel the dough soft, smooth and not dry.
Tip #3 is to let the dough rest for about 20 minutes covered with a moist towel. Once rested, the dough should feel soft like playdough. It is a common way to explain when the dough is ready.
Next, divide the dough into small sized balls to make small tortillas. You should get about two dozen tortillas from 2 cups of masa. While you make the balls, keep a towel over the bowl to keep the dough moist otherwise it can get dry. If it gets dry, pat it and roll again with wet hands to add some moisture.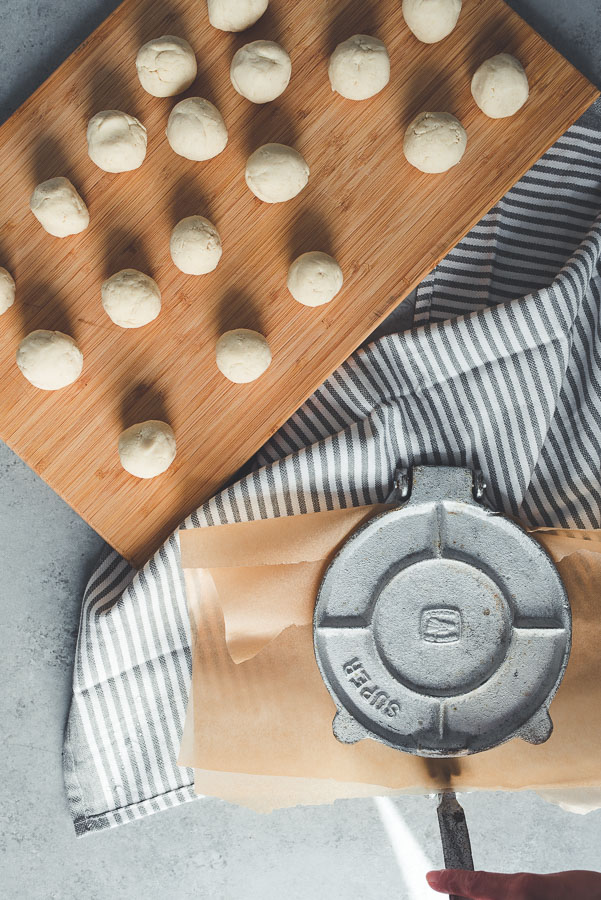 In fact, you can keep the balls of dough inside the bowl covered and when ready to press them, just take one at a time. For the picture above, I uncovered the dough balls to take the food photo.
The next steps are to flatten, cook and cover the tortillas.
A tortilla press to flatten the masa helps a lot but if you don't have one, it can be done with a rolling pin. I have had this tortilla maker for a long time. They are available in the Latin markets.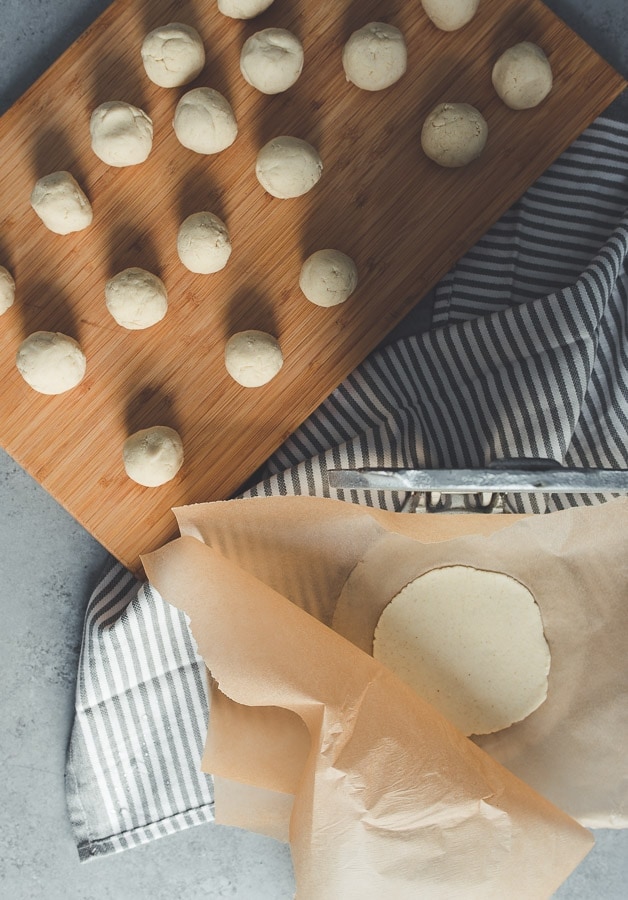 Use two pieces of parchment paper or plastic from a plastic Ziploc bag to flatten the masa in the tortilla maker. Do not flatten them straight on the metal of the tortilla maker (unless you have the wooden tortilla press) because it will stick and this metal might not be food safe.
Next step is to cook the tortillas on a comal, cast iron pan, or griddle. I use my cast iron pan that is flat and I keep the heat medium-high. Take one ball of dough and flatten the tortillas. Keep your water near to keep your hands moist when handling the dough.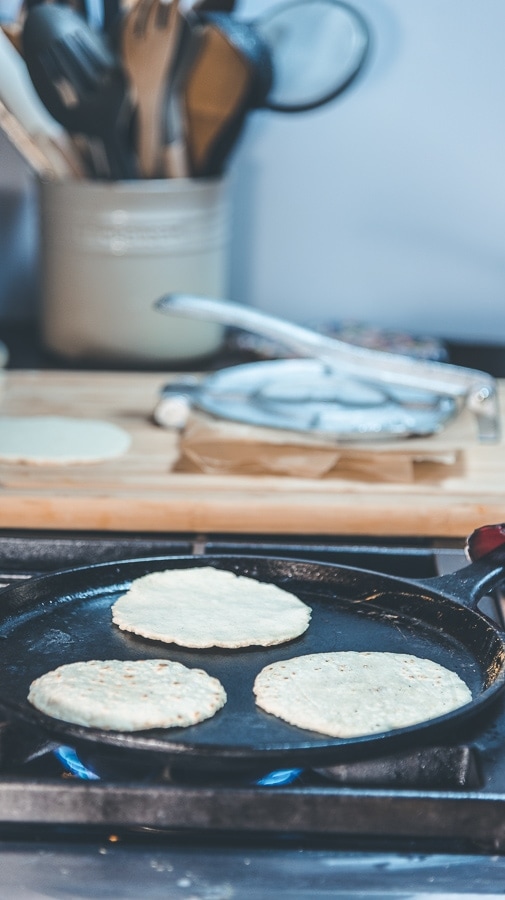 Tip #4 is how many times to flip the tortillas and how long to cook them. Once you flatten them, cook them in the hot pan or griddle for one to three minutes on each side. When the edges of the tortillas are golden brown, flip them. Let them cook on the other side and flip a third time to make them puff up.
So three flips and if they don't puff press gently the center of the tortilla with your fingers or with the back of a spoon to give them a little push so that they can get an air pocket in the middle.
The last tip is about storing tortillas and keeping them fresh for another meal. Don't let them dry out. So once they puff, take them off the griddle and wrap them in a kitchen towel to keep them warm and moist. That's it. For leftovers and once tortillas have cooled down, store tortillas in a plastic bag in the fridge.
Making fresh homemade tortillas takes time but they are sooo good. As you can see, I prepare small tortillas and these were served with homemade refried beans. I let them cook a little longer to serve them as tostadas without the frying.
Serve the homemade tortillas the same day. They will be delicious. The more you make these from scratch, the better you will be at it. They are better when they are made fresh at home.
Print Recipe
Homemade Corn Tortillas
Have you tried the fresh flavor of corn tortillas? An incredible taste and you can make them at home.
Ingredients
1.5

cup

warm water

1

tsp.

fine salt

2

cups

Corn flour maseca
Instructions
Warm water. Mix corn flour with salt in a large bowl. Gradually add one cup of warm water to the corn flour and mix with your hands. Continue mixing until a dough is formed into a soft large ball. If the dough is dry, add one tablespoon of water at the time. Continue until the dough is moist. Cover the bowl with a damp towel for 20 minutes.

Divide masa into 24 small sized balls (about the size of ping pong balls) and cover with the damp towel to keep them moist. Their size can be larger if you prefer larger size tortillas.

Heat a nonstick pan, cast iron pan, griddle, or comal (the name for griddle in Mexico). Use a tortilla press to flatten the tortillas. Line each side of the tortilla press with a piece of plastic or parchment paper.

Roll one masa ball at a time with your hands and place in the center of the tortilla press on top of the paper and press gently with your hands. Then close the tortilla press with the other paper on top of the tortilla. Open and remove the tortilla off the paper carefully. In order to remove it properly, flip the tortilla onto your hands and lift or peel off the paper from the top.

Cook tortillas for about 1-3 minutes on each side on a hot pan. Flip and cook another 1-3 minutes. Flip and press gently on the center of the tortilla to make them puff up. Store cooked tortillas wrap with a towel to keep them warm.
Notes
To keep leftover tortillas, store them in the fridge inside a plastic bag for up to 5 days. Reheat in a microwave wrapped on a moist paper towel or heat on a hot pan.